Peace in Friction
Finding solace in our do-everything-all-the-times lives
I like to think my life continually revolves in themes. I blame my mother for this tendency. My current theme? Peace in friction. As you all probably know, I moved across the country to New York in the summer of 2019 with my partner in order to go to grad school at NYU in a program I had coveted for some time.
My first few weeks in the program? I'll admit, I wanted to hide under the table. I was surrounded by writers from organizations like the BBC and BuzzFeed, collaborators with Vice and GQ, and magazine editors and authors. My impostor syndrome was raging. Where does a girl obsessed with the internet and strategy fit in? Where does the girl with no formal newsroom experience and minimal bylines exist, compared to her classmates? My work, consisting of creating ads and websites, felt immediately shallow in comparison to the hard-hitting news and traditional journalism of my peers.
You're here, don't be afraid to take up space.
In my frenzy of figuring out where I fit in in the world of news-media innovation, I found myself shrinking. Not answering questions that I knew the answer to. Shrinking behind people in the workplace and questioning my knowledge in what I knew for sure. My confidence was rattled and I didn't know where to go.
I vividly remember one night where I was coming home after a hard class, already having a rough day mere hours earlier on a project I was contracting on. I was trying so hard and nothing was happening. And when my partner asked how was my day, I just broke down in tears. Like vicious, snot-on-face, complete blubberish, ugly crying tears.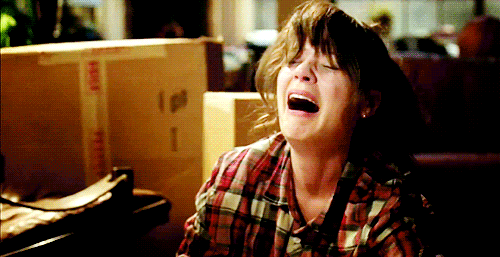 I want to go home, not New York home. I want to go back to Reno, where I know everyone's name and don't get lost simply going to school. I want to go to the bar where a Sierra Nevada isn't 11 bucks. I want to exist without having to feel like I have to justify my existence.
Newsflash: you never have to justify your existence.
I was deep in the sinkhole of self-hate and impostor syndrome. And it took reaching out to a few friends and talking to new faces to truly help me realize it.
But part of realizing it involved realizing I wasn't alone in feeling this way. The world can be a big and scary place — especially in a time of change — it can be hard to feel centered and focused on what you're doing. And in a city like New York, with a population of 8 million people, it's easy to get caught up in the 'what is everyone else doing.'
It's a bigger problem
Part of what pulled me out of my tailspin was attending Startup Weekend NY, Women in Tech Edition. Being around other female creators and innovators was really helpful to see that dammit I'm not alone, and these are things other people feel — especially women. Add that to the fact that in 2018 - only 4.8% of Fortune 500 CEOs were women; we've got a problem on our hands.
It's hard to feel like you fit in when you don't see anyone like yourself where you want to be.
I'm a strong woman. I've worked in tech offices and I've launched campaigns. I've been the only woman in the room, and I've had some bad experiences in the workplace. I've had male clients refer to me more as "sweetie" than my own first name, I've had male clients looking at pornographic images while in a conference room. I've had colleagues take credit for my work in front of me. These things alone are enough to make any sane individual shudder. But fortunately, I had other women to reach out to and vent over a glass of wine (or a bottle) with and tell me I'm not crazy.
I often wonder if it would even be possible for me to make it in the tech environment without strong female role models.
By the numbers: the lack of representation
There's more disheartening statistics if you choose to google them, but I feel that these illustrate my point quite well.
The power of representation
The Stanford Daily does a good job of summing up the power of representation in a few sentences.
Representation is a vicious cycle. We write about what we see and what we experience. When all we study is white and all we see is white, all we create is white. 
We write about what see and what we experience. We normalize that behaviour. We need to lower the boundaries to what exists so that we can have better experiences in our own day-to-day lives and better understanding of the world around us.
Circling back to my initial topic and tangent of writing;
You're here, and you deserve to take up space.
Seriously, I think this was the best piece of advice that I received when I was in my trying time. Don't fight it; you are more than privileged to be here, to exist — take up that space and lift someone up while you're at it. Everyone needs a hero.
---
Quick Links
Given the theme of representation, and existential crises, its only fair I give you a few quick links related to it.